THE ATM DISTRIBUTORS TYPE KLÜSSENDORF.
Introduction.
Used for the first time in Germany in 1981, the distributors type KLÜSSENDORF issue variable value stamps or ATMs measuring 43 x 26 mm.

There exists two types of KLÜSSENDORF distributors;

The self-service machines propose different programmed franking values, work with coins and return also coins or ATMs. There are column distributors (as the image) or small size distributors.
They are located generally in the outside of the post offices, but also they are possible to be found in the lobby or in other public spaces, so that the user can obtain the ATMs (variable value stamps) at any time.
The table machines are used by postal clerks in Post Offices or Philatelic Services.

From each one of this two main types there are also different models.

KLÜSSENDORF ATM distributor used by German Posts, with the ATM issue in 1984.
The feeding mechanism is by roll traction of labels - gummed papers that include two circular holes, with that each printed ATM includes two semicircles in the superior part and two more in the inferior one.
The design of the ATM always is in the used paper of security.
The mall pillow of mechanical printing contains only wheels of digits and the asterisk that can be used instead of the zero. There is also the possibility of printing the number of the distributor.
Each 5 ATMs exist a control number to the back that indicates the number of stamps that still are in the machine. As the coils are of 2,000 labels, the first number obtained is the 2,000 and last one, 5.
The German firm KLÜSSENDORF stopped their production at the end of '90s because financial problems.
From 1992 the also German company NAGLER have been developed some models of ATM distributors with similar technology and characteristics, but they also had very important financial problems and slump at the end of August 2001.
The new company BAUMANN GmbH continue with the commercial activity of older NAGLER.

---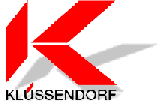 ---
The manufacturers : Epelsa - Frama - Klüssendorf - Mobba
---
ATM Web -Spanish and Latin American Postal Services : http://www.fut.es/~jjj/atm
© J. Jové - M. Sans. All rights reserved. This page was last updated : 11.02.02